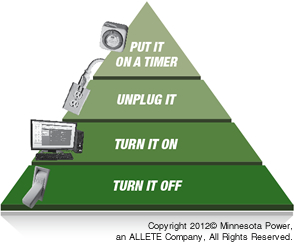 Miscellaneous Electrical Load (MEL)  in buildings are electric loads resulting from electronic devices not responsible for space heating, cooling, water heating, or lighting. MELs are produced by hard-wired and "plug-in" electrical devices, including home entertainment centers, kitchen electronics such as microwaves and toaster ovens, bath items such as hair dryers and electric hot tubs, and others such as security systems and ceiling fans.
Early generation phone chargers used a lot of electricity and were also a danger if left plugged into the phone. In recent years chargers for phones and other new electronics like laptops have more energy efficient features like an automatic shutoff and sleep mode.
MEL is estimated to contribute 4-12% of the total household energy usage and while many newer electronic devices will come with energy efficient features, things like refrigerators and microwaves are not replaced often so the likelihood of these devices being energy hogs is high.
The other major contributor to MEL are devices that are always connected to the internet. The increasing use of electronics connected to WiFi for example is only going to increase as we move inexorably towards a wireless world. Internet business experts estimate that by 2020 there will be 50 billion devices constantly connected to the internet. Some of the more futuristic things that will be connected to your phone or the computer chip in your brain are coffee makers, pacemakers, cars, and of course cows.
There are a few proposed solutions, some more feasible and long term than others. The Whole House Switch is somewhat like a circuit breaker for everything in your house. The idea is that when you go out all the electronics can be switched off all at once. This solution requires some pretty serious rewiring that may not even offset the energy saved.
The best solution is a combination of advances in the technology combined with government incentives to upgrades appliances to the latest energy efficient models. For example, new advances in semi-conductor materials means faster and cheaper energy transmission with little environmental loss. When exactly these scientific progressions will be available for the homeowner is still a matter of some debate.
One short term solution is to put timers on the devices that don't need to be on all night. I have a timer attached to my TV, modem, and cable box that shuts off automatically at night. Timers can be purchased from Tashman Home Center.
Start Saving Today!